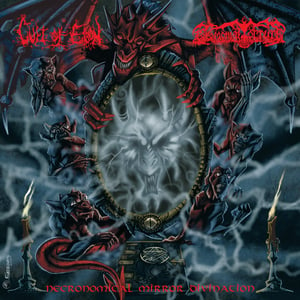 €

16.00
Black metal brewed among the ancient mists of time, Necronomical Mirror Divination is NOT for trendy ears. CULT OF EIBON and CEREMONIAL TORTURE are both bands who adhere to black metal's oldest unorthodox ways, days when unique sounds were celebrated so long as the essence - THE OCCULT - was strongly and passionately felt. Indeed both are felt in full adbance here on this seven-song/32-minute split album.
CULT OF EIBON have already made a considerable name for themselves in the underground with their virtuous reinvigoration of the classic Hellenic black metal paradigm. However, even within that "local color" existed more unorthodox means, and here on their four exclusive tracks do the duo strive for a more measured 'n' mystical sound compared to the throttling riff-hypnosis of their preceding work. Daubed in oft-dramatic synths, CULT OF EIBON's already-considerable stature continues to grow. CEREMONIAL TORTURE duly complement their split-mates with three exclusive tracks of their own. Already exceptionally prolific - and bewildering - during the past decade, mainman Goatprayer Doom Predictor here delivers an astoundingly swirling and sulfurous sound steeped in '90s black metal's most diverse names. From the bass-heavy overload of Necromantia to the comparably psychedelic dementia of Traumatic Voyage and early Sigh, CEREMONIAL TORTURE are unrivaled in nowadays "black metal."
Fittingly featuring awesome, era-authentic artwork courtesy of Panos Sounas, who did the classic cover art for Necromantia's first two albums, Necronomical Mirror Divination is utterly essential listening for true witches, warlocks, necromancers, and deviants in general!